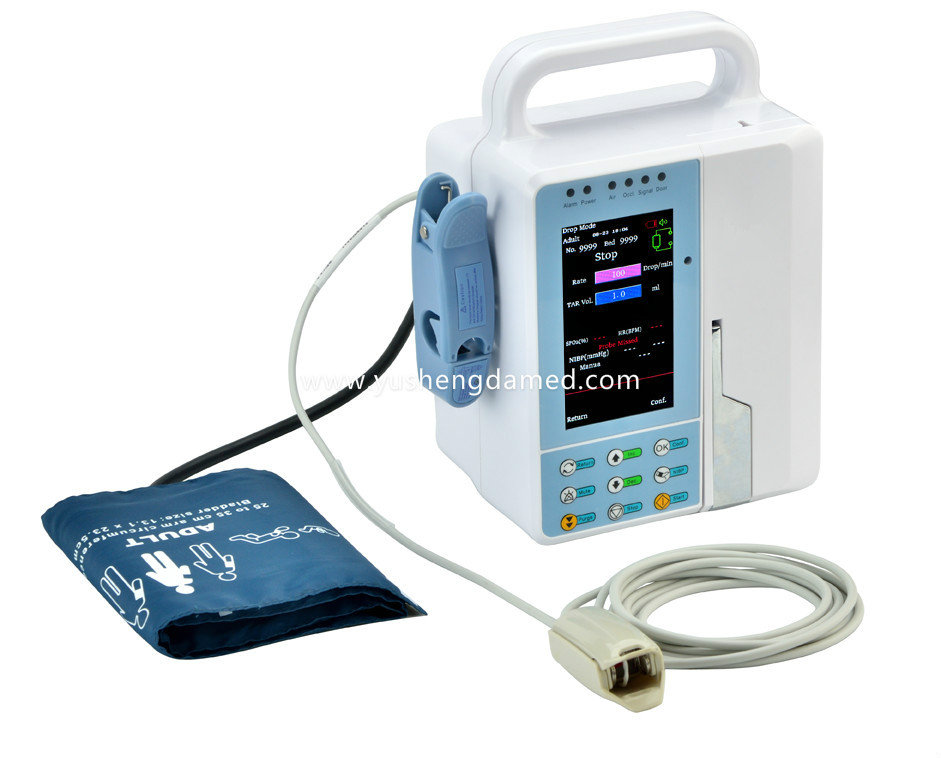 Features:
1. 4.3" color TFT LCD screen (LED backlight), with resolution 272×480
2. Three working modes: Rate/Time/Volume mode
3. Drug library with 210 kinds of medicine
4. Storage 1500 history records
5. Heating function, suitable for infusing in winter or there is requirement for the fluid medication temperature
6. Support multi language display
7. A variety of visible and audible alarm, make infusion more safe
Large LCD display, with backlight, suitable for working in various ambient light conditions.

Disposable IV set of any brand is suitable for this pump

Three working modes: Rate/Volume/Time mode

Purge, KVO function

Heating function is optional, suitable for infusing in winter or there is requirement for the medication temperature.

Remote Controller makes operating more convenient.

Central monitoring system is optional, the infusing status of each pump is displayed in real time at the central station through wireless transmission.

Simple and convenient in operating, in tuitive presence of working status.

Audible and Visible alarms

Alarm: Infusion Complete, Empty, Faulty Signal, Misoperation, Occlusion, Door Open, Air Bubble, Low Battery, Setting Error, AC power off, Idle.

Size: 188 mm(L)*198 mm(W)*228 mm(H)

Net Weight: 2.2kg
Standard:Drug library, History record, Heating function, Drip detector

Optional:SpO2,NIBP

Why we add NIBP &SpO2 to an infusion pump?
NIBP & SpO2 are the most frequently used vital sign parameters, we make them work as one, to help doctors reduce cost and save space which is already very limited in the hospital room.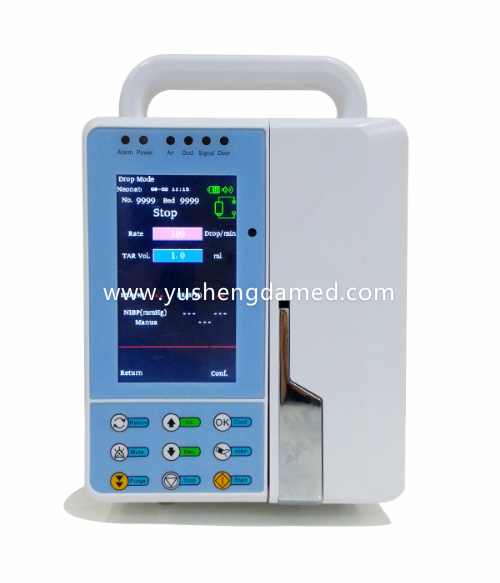 Technical data sheet:

Pump Type

Drip type infusion pump

Pumping Way

Peristalic fingers

Adjustable Drop Rate Range

1~400 drops/min (step: 1 drop/min)

Adjustable Volume Rate Range

1~1200 ml/h (when 1~99.9 ml/h, step: 0.1 ml/h; greater than 99.9 ml/h, step: 1 ml/h)

Flow Precision

Within 3% more or less(using the IV set appointed by the manufacturer or calibrated high quality IV set)

Mechanical precision

within 2% more or less

Purge Rate

800 ml/h

KVO Rate

1 ml/h (1~300 ml/h)
3 ml/h (greater than 300 ml/h)

Infusion Volume Range

1 ml~9999.9 ml (step: 0.1 ml)

Maximum Accumulated Volume

9999.9 ml (step: 0.1 ml)

Time Range

1 min~9999 min (step: 1 min)

Occlusion Alarm Threshold

High: 800 mmHg+-200 mmHg (106.7kPa+-26.7kPa)
Medium: 500 mmHg+-100 mmHg (66.7kPa+-13.3kPa)
Low: 300 mmHg+-100 mmHg (40.7kPa+-13.3kPa)

Alarm

Infusion Complete, Empty, Faulty Signal, Misoperation, Occlusion, Door Open, Air Bubble, Low Battery, Setting Error, AC power off, Idle.

Air Bubble Detector Method

ultrasonic wave, sensitivity: more than or equal
25 μL

Fuse

F1AL/250V ("F" indicate fast,"L" indicate low breaking capacity), 2 pcs (installed inside pump).

Power Supply

AC 85~265V, 50/60Hz;

Internal Battery

11.1V rechargeable li-ion battery. Capacity:more than or equal 2000mAh;
the pump can work more than 4 hours at the flow rate of 25 ml/h after charging for 8 hours (Medium rate specified by GB 9706.27-2005).

Power

less than or equal 40VA

Size

188 mm(L)*198 mm(W)*228 mm(H)

Weight

2.2KG

Environment Requirements

Transport
Ambient Temperature: -30°C~+55°C
Relative Humidity: 20%~95% (non-condensing)
Atmosphere Pressure: 70kPa~106kPa
Storage
Ambient Temperature: -30°C~+55°C
Relative Humidity: 20%~95%
Atmosphere Pressure: 70kPa~106kPa
Operation
Ambient Temperature: +5~+40°C
Relative Humidity: 20%~90%
Atmosphere Pressure: 86kPa~106kPas

Calibration function

disposable IV set of any brand is suitable for this pump

Three working modes

Rate/Volume/Time mode

Alarm

Infusion Complete, Empty, Faulty Signal, Misoperation, Occlusion, Door Open, Air Bubble, Low Battery, Setting Error, AC power off, Idle.

infusion monitoring system (Optional),
the status of each pump is displayed in real time at the central station through wireless transmission.

4.3 inch color LCD display, with backlight, suitable for working in various ambient light conditions.

Display time, battery, infusing status, mode, rate, target volume, accumulated volume, target volume, sound volume, pressure, department, bed No., I/V set, temperature of medication
Technical Specification:

Infusion rate range
Adjustable drop rate range: 1 /min~400 drops/min
(step: 1 drop /min)
Adjustable flow rate range: 1ml/h~1200ml/h
(step 0.1ml/h)
Purge rate: 800ml/h
KVO rate: 1ml/h (1~300ml/h)
3ml/h (greater than 300ml/h)
Infusion volume range: 1ml~9999.9ml (step: 0.1 ml)
Maximum accumulated volume: 9999.9ml (step: 0.1 ml)
Infusion Time range: 1min~9999min (step: 1 min)

Infusion accuracy: Within ±3% (using calibrated high quality IV set)
Mechanical precision: within ±2%

Occlusion alarm threshold:
High: 800 mmHg ± 200 mmHg (106.7kPa±26.7kPa)
Medium: 500 mmHg ± 100 mmHg (66.7kPa±13.3kPa)
Low: 300 mmHg ± 100 mmHg (40.7kPa±13.3kPa)
Alarm: Infusion Complete, Empty, Faulty Signal, Misoperation, Occlusion, Door Open, Air Bubble, Low Battery, Setting Error, AC power off, Idle.

NIBP
Range
Average deviation: ≤ ±5mmHg
Standard deviation: ≤ 8mmHg
Adult
280 mmHg ±10 mmHg
Pediatric: 237 mmHg ±3 mmHg
Neonate: 147 mmHg ±3 mmHg

SpO2
Range: 0%~100%
Resolution: 1%
Accuracy: 70% to 100%, precision is 2%
0% to 69%, undefined

SpO2 alarm
Upper limit: 100%
Lower limit: 90%
Alarm value accuracy: 3%
Alarm time accuracy: 2s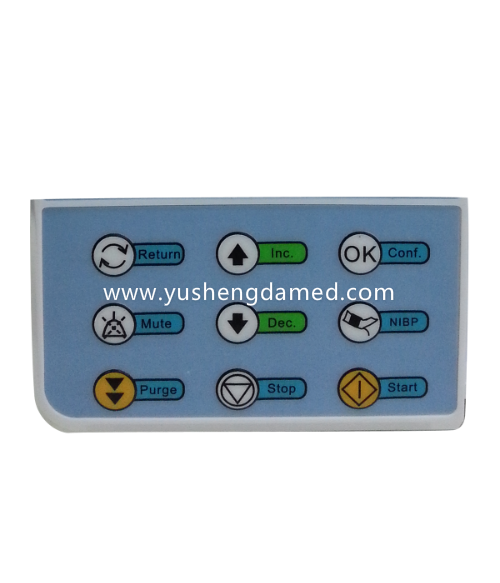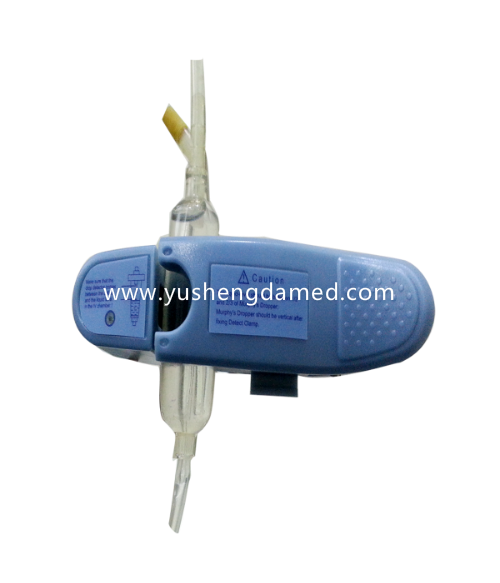 Why choose us:
we got production and business certification from Chengdu food and Drug Administration
we got business license from Chengdu City Administration of industry and commerce
we got products certificate of registration and have checked in the website of SFDA
we have accepted the onsite check from SFDA every quarter
we finished the training of laws and regulations in medical instrument field
We have well-established system about material purchasing, employee training,store management,after-sales service process.etc
We adheres the beliefs of "Support Healthy Life", and our company spirits are quality, service,trust,thanksgiving;
Our Certificates: