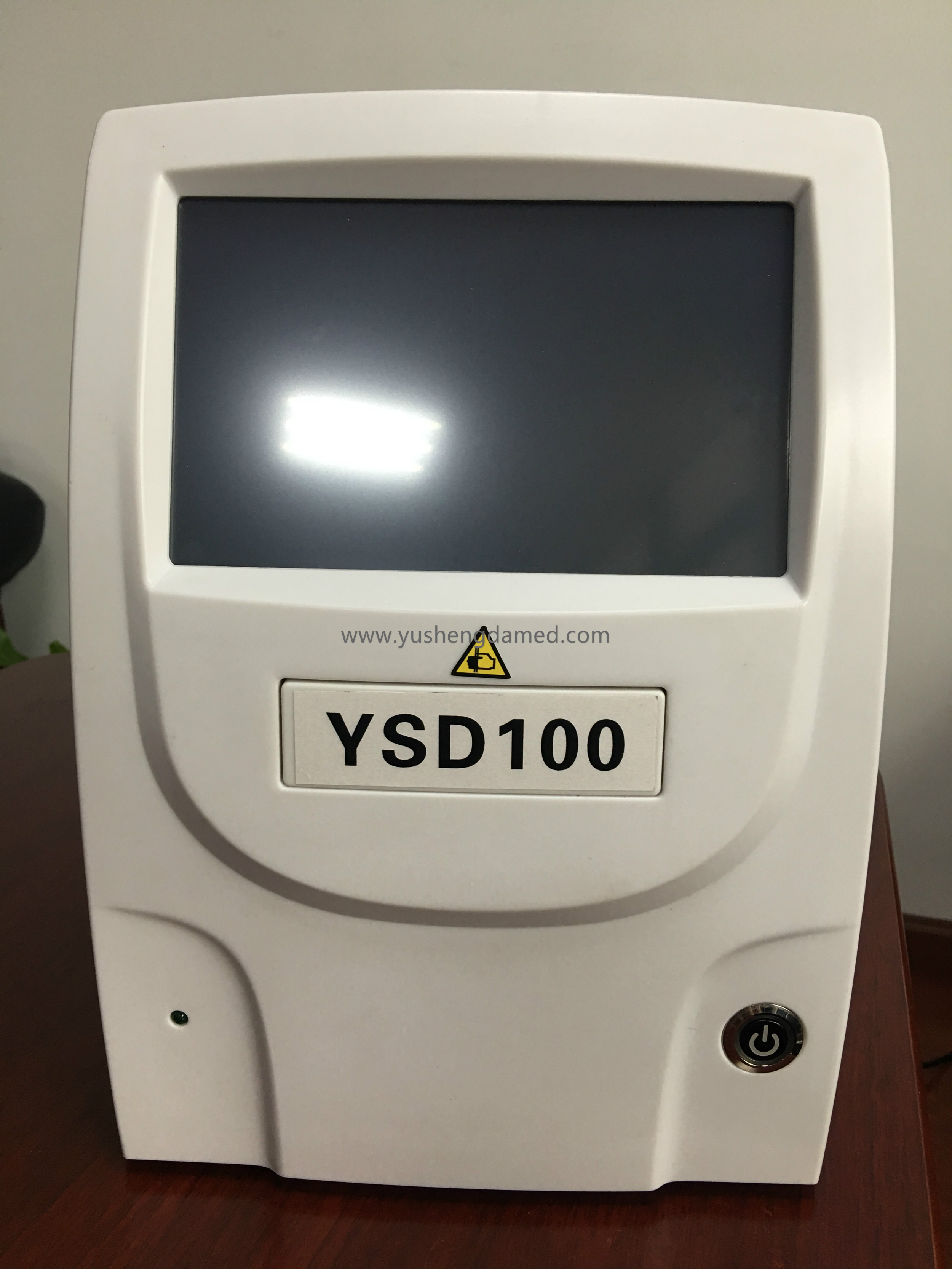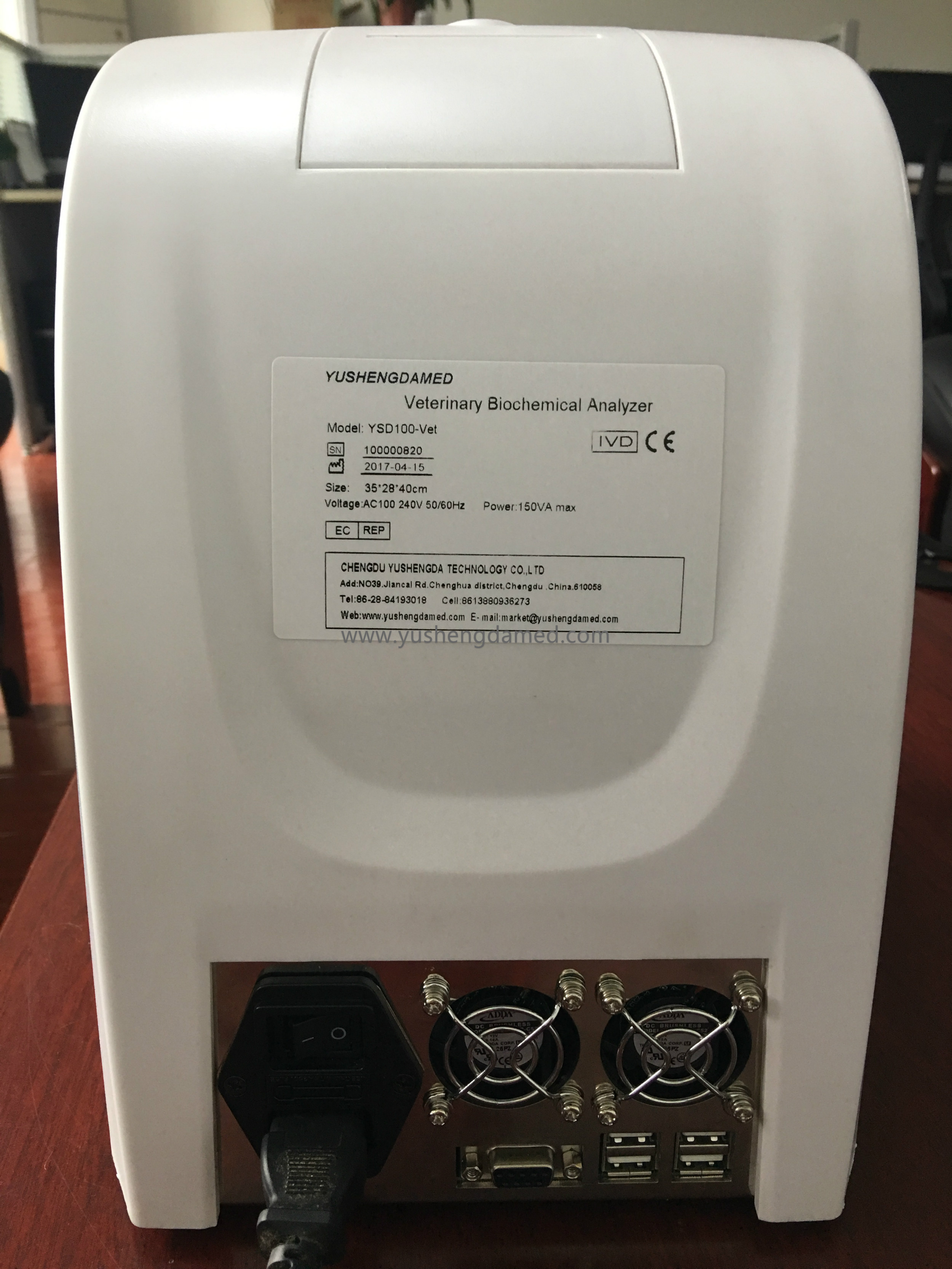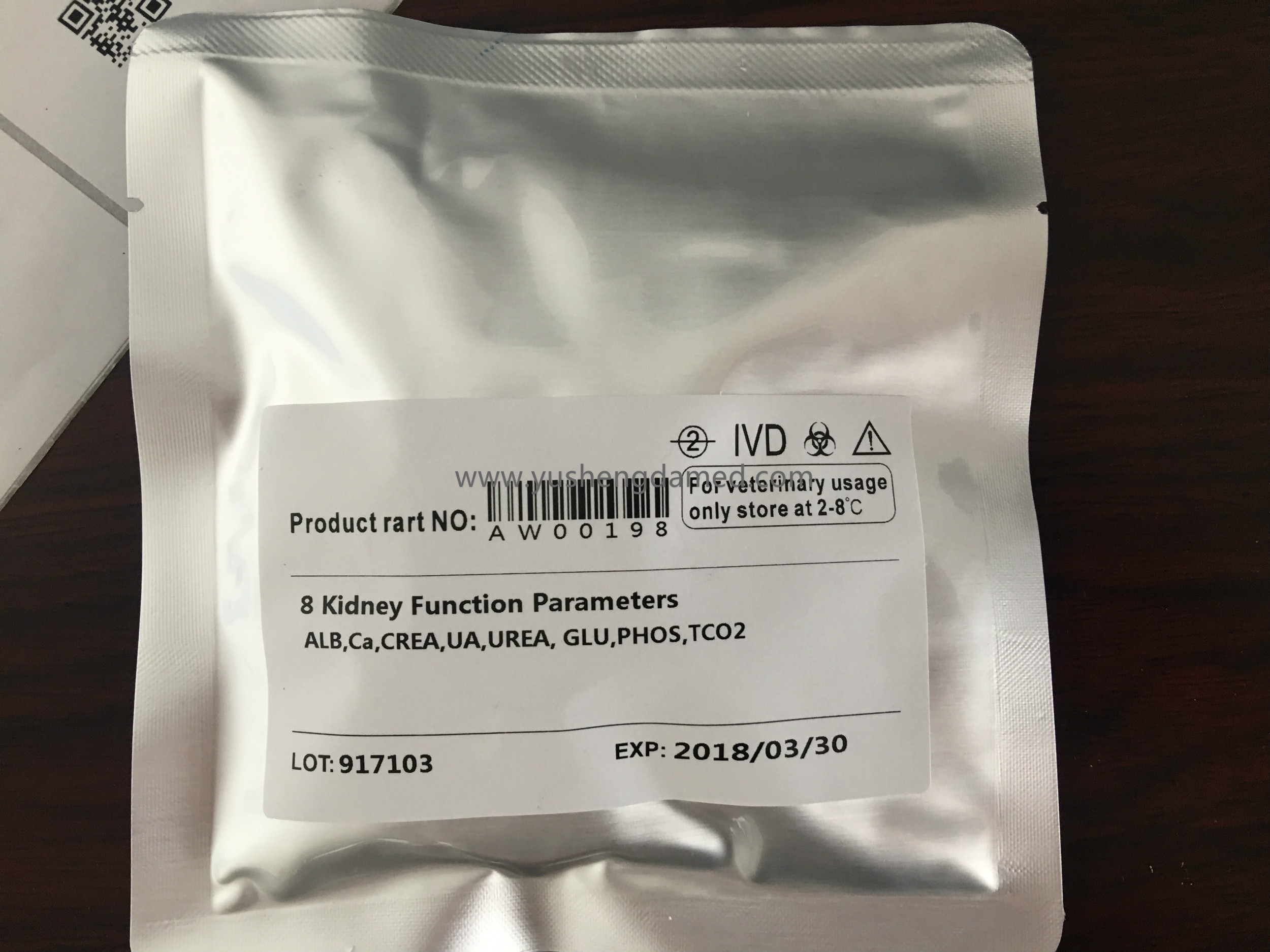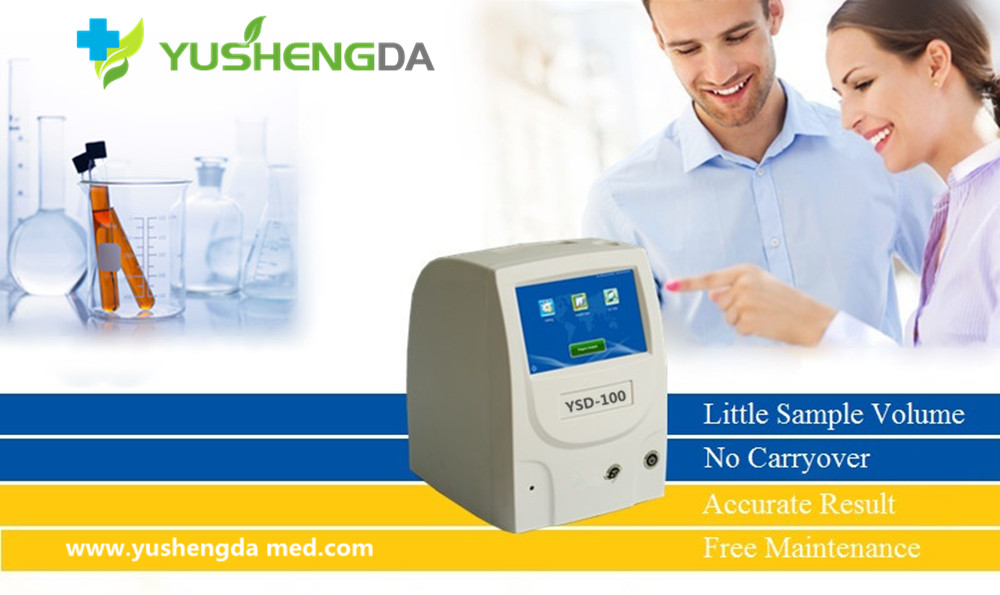 Brief Introduction
YSD-100 chemistry system is compact and easy to transport.
It is applied to lithium heparin anticoagulant whole blood, serum and plasma for clinical biochemistry analysis.
For entire analysis, the YSD100 portable auto chemistry analyzer s requires 100ul sample and is capable of providing results in about 12 minutes.YSD100system consists of a portable analyzer and single-use disposable reagent discs.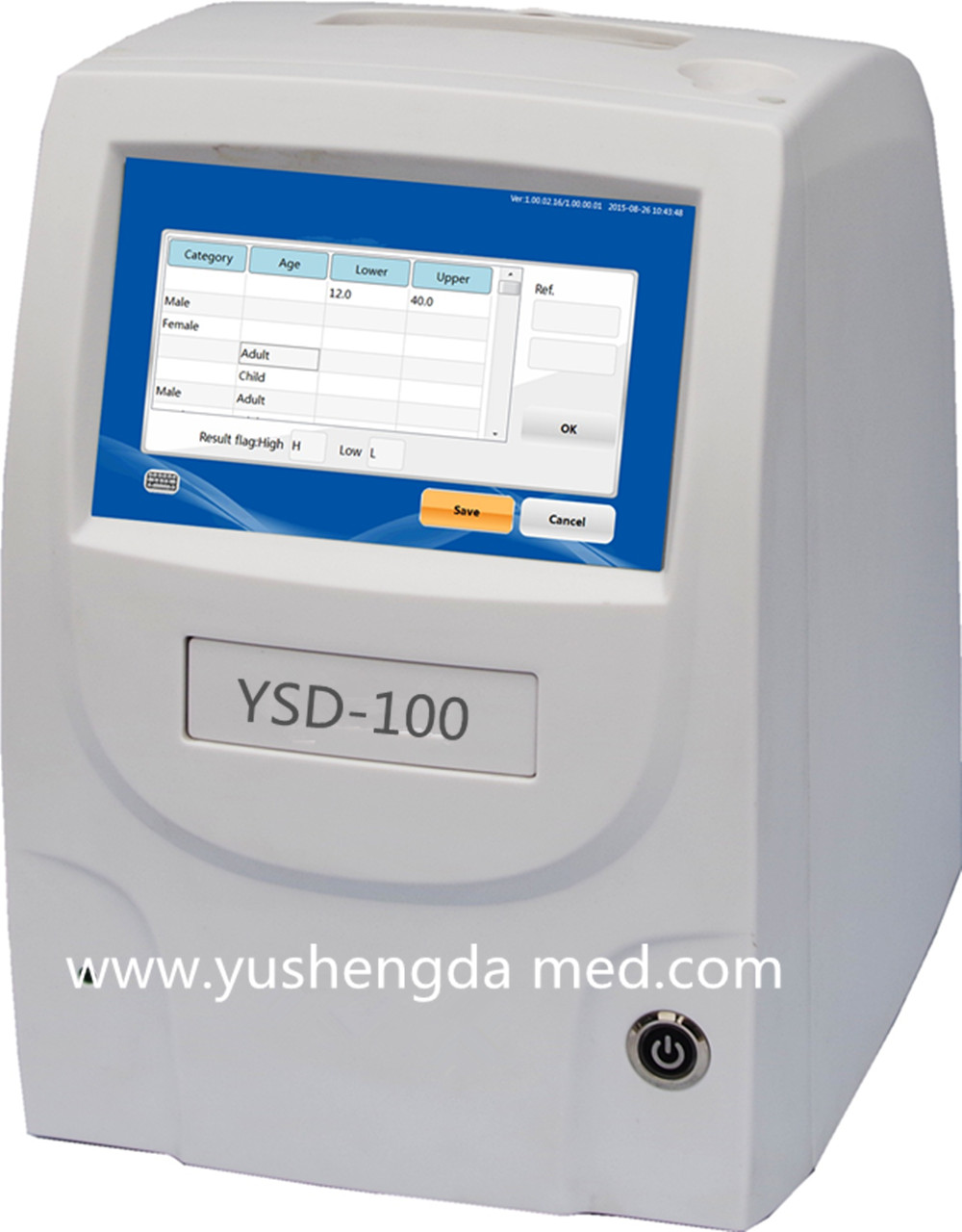 AdvantageSimple operation
Free of centrifugation, water treatment system and professional doctor.
Anyone can operate only by 3 steps.
Add 100ul whole blood into disc, put disc into analyzer and delay 12 minutes to print.
Little sample volume
Sample volume is one-twentieth to one-tenth of normal chemistry analyzer.
Accurate Result
Test sample and dilution volume measured by mould, without random error.
No carryover.
Portable,5 Kg, 0.02m3
Provide with AC and DC power, suitable for use at movable place and outdoor.
Free maintenance
Auto QC and real time Calibrate.
Stroboscopic xenon lamp, service life is over one hundred million times.
No internal fluid flow, no pump and valve, decrease machine fault.
Test Items:
The Types of Biochemistry Reagent Disc
1. 14Conventional Parameters
TC,ALT,AMY,ALB,ALP,GLU,GGT,UA,AST,TBIL,UREA,CREA,TG,TP
2. 13 Health Check Parameters
ALT,ALB, AST, AMY, CA, CREA, GLU, TBIL, CK,TG,UREA, PHOS, TP, GLOB*
3. 10 liver Function
ALT,TBA,AMY,ALB,ALP.GGT,AST,TBIL,CHE,TP
4. 8 Kidney Function
Co2, CA,ALB,GLU,UA,P,UREA,CREA
5. 7 Electrolyte
K+, Na+, Cl, CA, CO2, Mg, P
6. 6 LipidParameters
ALT, ALP, AST, GLU, UREA, CREA, TP, LDH, CK
7. 15 Comprehensive metabolism
NA,ALT,CO2,CA,ALB,ALP,GLU,CL,UA,AST,TBIL,UREA,CREA,K,TP
8. The Others
It is workable to customize according to your request.

Specification:
| | |
| --- | --- |
| Sample Type | Lithium Heparin Anticoagulant whole blood, serum and plasma |
| Sample Volume | 100ul |
| Bar Code | Two-dimensional bar code automatically read |
| Testing Time | 12mini/person |
| Testing Principle | Absorption spectroscopy, transmission turdimetry |
| Analyzing Method | End point, rate, fixed time, turbidimetry etc. |
| Temperature | 37ºC±0.2ºC |
| Absorbance | 0-3.0Abs |
| Resolution | 0.0001Abs |
| Carryover | 0 |
| QC & Calibrate | Auto and real-time to complete |
| Work Environment | Temperature:0-35ºC Humidity:<90% |
| Light Path System | After the filter spectral,8 wave length synchronous detection:340,405,450,505,546,600,630,850nm |
| Light source | 12V/20W, over 2500hours lifespan, halogen tungsten lamp |
| Power | AC100V-220V,50-60Hz; |
| Display | 7 true color LCD touch screen, multi-language choice. |
| Storage | >100 thousand |
| Printer | Built-in thermal printer, external printer |
| Data Port | 4USB,1RS232,System upgrade by WIFI |
| Weight | 5Kg |
| Dimension | 31(H)*21(W)*28(L)CM |

Our Certificates: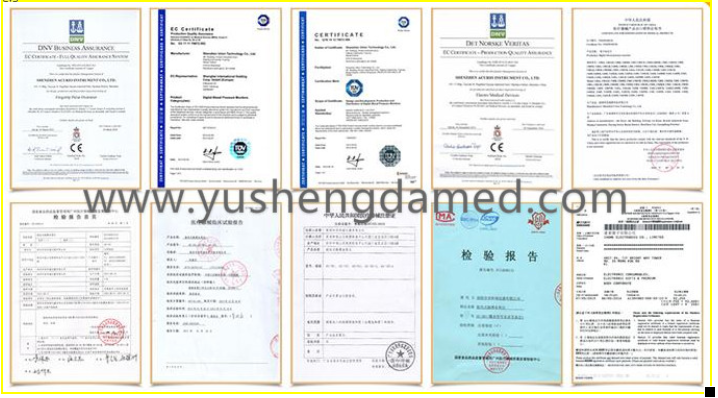 Why choose us:
we got production and business certification from Chengdu food and Drug Administration
we got business license from Chengdu City Administration of industry and commerce
we got products certificate of registration and have checked in the website of SFDA
we have accepted the onsite check from SFDA every quarter
we finished the training of laws and regulations in medical instruments field
We have well-established system about material purchasing, employee training,store management,after-sales service process.etc
We adheres the beliefs of "Support Healthy Life", and our company spirits are quality, service,trust,thanksgiving;